A Photoshop too far?
I have no idea if Kim Hopper has had plastic surgery (a topic of hot debate in comments recently) and to be perfectly honest, I don't really care. I won't exactly say it's nobody's business, since Hopper's a celebrity in gospel music and like most southern gospel personalities, the Hoppers do ask their fans to invest heavily and personally in the image of the person on stage, and that includes the kinds of aesthetics bound up in plastic surgery. But like I said, I just really don't care. And anyway, it sounds like Kim Hopper has a lot more serious health issues right now and my good thoughts go out to her.
But if the Hoppers don't want to have to, as one commenter put it, "come and out correct" erroneous facebook comments that claim Connie Hopper has had plastic surgery, then they might want to rethink some of their media kits. Here's what  I mean. Below, an image of Connie Hopper and family from one of the images the group has been using for a while now in its publicity.
Now here's what we might best be called a more candid shot of Connie Hopper from around the same time*: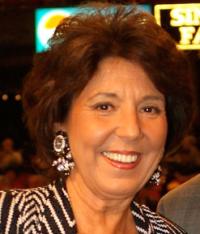 Mind you, Connie Hopper looks great here and she's always a class act on stage. But I've asked two different people without interest or knowledge of sg in general or Connie Hopper in particular to look at that first picture and tell me how old they think the woman on the right is and one said late 30s, the other said early 40s. And they're right. I mean, sure, good lighting and makeup can take a few years off but the woman occupying Connie Hopper's position in that first photo looks like she's just walked out of consecutive episodes of Nip/Tuck, Tim Gunn's Guide to Style, and Queer Eye for the Southern Gospel Grandmother. And a reasonable fan who saw that first image after having seen Connie Hopper in person could, without knowing any better, fairly wonder about plastic surgery.
One final, updated thought: the Hoppers of course are free to do whatever they want in their publicity, and frankly, aside from making them look  a little vain and silly (I agree with this comment, that they all look touched up to varying degrees), this kind of thing is pretty harmless. But more substantively, it might do well for all of us to ask ourselves why it matters so much if Kim Hopper had plastic  surgery, yet we don't go every man, woman and child to the internet to debate all the bad toupees and Just for Men mustaches out there from Jake Hess and Hovie Lister (and Claude Hopper, perhaps?) on down. No doubt gender bias and body image norms are a big part of it, but we need not conduct a gender studies seminar to note the disparity in the way discussions of male and female celebrity are conducted. From a purely personal perspective in the peanut gallery, I find the ridiculous hair pieces and the hair colors not found in nature that so many men are so badly indulging in (Ron Popeil hair paint, anyone?) to be far more visually off-putting than whatever plastic surgery Kim Hopper or any other woman may or may not have had (here, of course, I'm talking mainly about the sorts of plastic surgery that aren't obvious to the average observer/fan; those cosmetic augmentations designed to elicit widespread notice are another story entirely).
*In case you want to check my work, here's the source for the first photo (the Hoppers themselves are still using a version of this photo on their own site) and the second photo. I don't have exact dates for either image, but they're within a year or two of one another, at the most, I'd guess.
Email this Post