Obama's southern gospel ride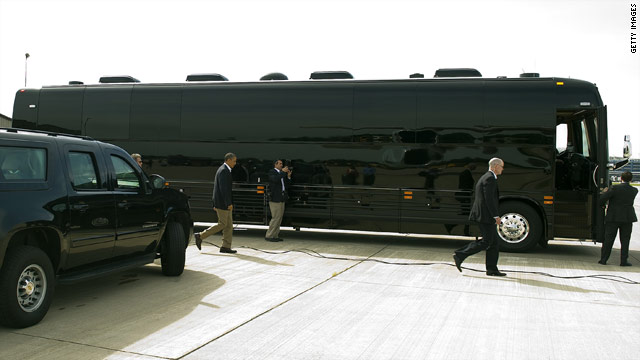 Via KC, President Obama's armored bus comes from none other than the family Hemphill, who may have a had a calling in southern gospel but have doubtless made a small fortune in custom motor coaches. Just this past weekend I saw one trundling down a Maryland interstate. Southern gospel is everywhere, in one form or another.
Anyway, retail price for the Secret Service for each of the two coaches used for Presidential road trips is $1.1 million. That's some big money from big guvmint, at least by sg standards.
It'll be interesting to see how this goes over in sg, especially within the dominionist flank of Tea Partiers in southern gospel. On the one hand, there's a strain of hawkishness among that crowd that might see armored presidential coaches as both common sense security for the leader of the free world (which is pretty much the only point of substance that matters here at the end of the day) and a powerful symbol of American might, and made by a family with strong southern gospel ties to boot.
On the other hand, a lot of these folks really dislike Obama intensely and tend to carve out all sorts of exceptions for him and just about anything he does, so that what would have been met with a yawn if George W. Bush were to do it is considered treasonous Kenyan anti-colonial socialist communism under Obama.
In other words, it could be fun to watch. We report: you decide.
PS: And of course it can't help that Joel Hemphill has a history of getting crossways with orthodox purists about the nature of divinity.
Update: And right on time, Karl Rove's attack machine political action group is blasting the president for the bus's price tag, even though the eventual Republican nominee will make use of the same bus.
Email this Post